History
1 July 2007 - New Video
22 June 2007 - Video Update
Guestbook
Martine can now get online with her laptop, and would love to hear from you in the Guestbook (click here)
Contact Us

About Martine
Martine has been a guide dog owner for 25 years and has owned four guide dogs. She has done many events in the past, including a parachute jump in 1987, and a walk around Rutland Water in 2004, and last year, drove at 65mph along the new A421 Great Barford Bypass, all to raise money for charity.
About Mark
Mark is the British Champion Aerobatics Pilot, and has moved from his highly manouverable Russian Yak planes, to a more pedestrian aircraft to teach a Blind pilot to take-off, fly and land a plane without any physical interraction.
Mark is based at Little Gransden Airfield, the site used for the training sessions.
Mark can often be heard and seen flying around and above St Neots, performing all sorts of insane aerobatic stunts !
Mark is also a regular charity worker, and raises money each year for a number of charities at the Little Gransden Air Show.
More Pictures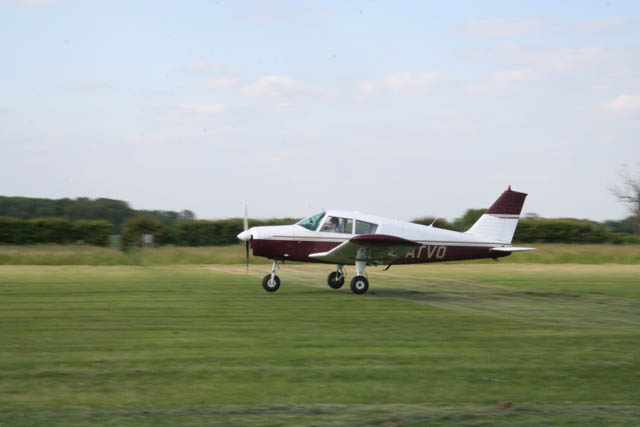 One of Martine's take-offs on her Third Lesson
Martine, sitting in the Pilot's seat, about to go through pre-flight checks with Mark
Media
Videos
This is the video "The First Lesson ".
(This video uses the YouTube ActiveX Plugin)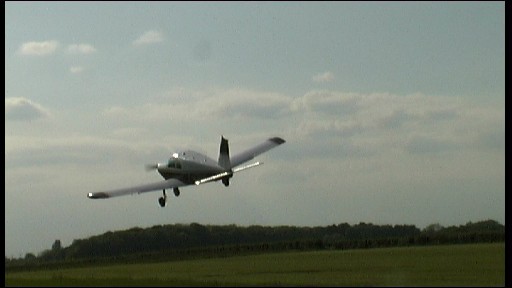 The Last Lesson (6Mb wmv)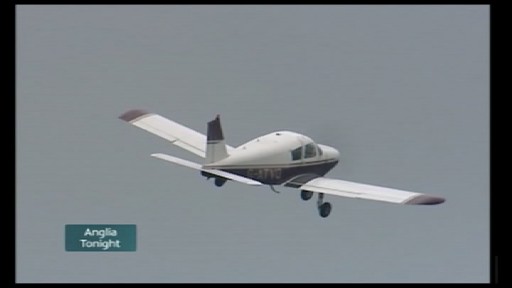 The Flight! (3.3Mb, wmv)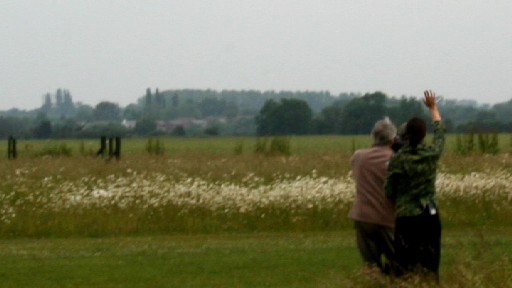 Slideshow (4Mb, wmv)
Your feedback and comments in the Guestbook are greatfully received.
Our Sponsors
All of the money donated by yourselves goes directly to EACH. Mark is funding the £800 running of the plane for the lessons and event. Corporate sponsorship would, or course, be appreciated, please contact us at the above email address.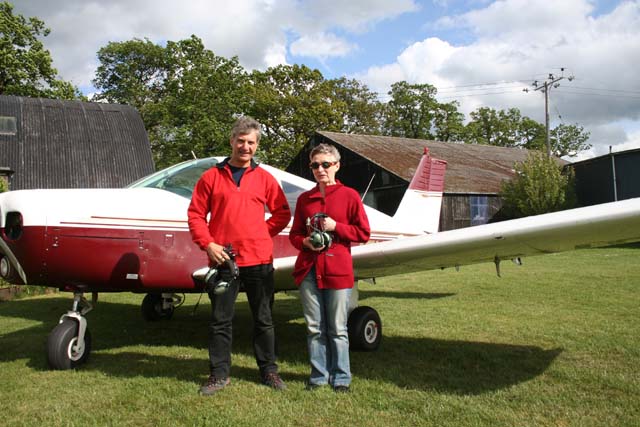 Martine Brooks and Her Instructor Mark Jefferies
How You Can Help
By Donating Online, with Justgiving.

By bank transfer to the "Mrs M Brooks Challenge" bank account at Barclays, St. Neots: 20-74-81 70822183.

By donating cash, or cheque made out to "Mrs M Brooks Challenge" in person at any Barclays branch into the "Mrs M Brooks Challenge, St. Neots " account. (Remember to ask about Gift Aid).
History
Following a challenge by her instructor and navigator, Steve Clarke, in 2006, Martine will be flying a plane to raise money for EACH (East Anglia Children's Hospice).
She does not do things by halves, so when she wanted to find someone to teach her to fly, she went straight to the British Aerobatics Champion, Mark Jefferies, who jumped at the opportunity!
News
14th June 2007 - The Day!
She has done it ! Three takeoffs and landings, and a fly-by!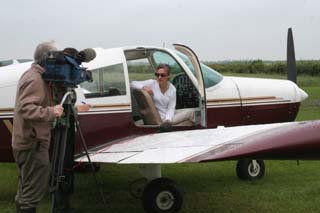 A Pre-flight interview!
13th June 2007 - School Presentation -
Martine visited Perse School in Cambridge, and gave a morning assembly presentation in front of the whole school. The topic was 'Challenges'. The presentation was extremely well received by all, and the school (a regular supporter of EACH) will be holding a number of different events, to raise more cash, in special support.
| | |
| --- | --- |
| | |
| Martine Presenting | Martine, Dr. Fengler and the Tie! |
12th June 2007 - 12Mph North West to West Wind - A very difficult day, with the wind at ground level going in a different direction to the wind at 100 feet. This meant that it was very difficult to maintain the direction when landing.
29 May 2007 - 12mph North West to West Wind - Martine's Fourth Lesson - today was a rough day, with pockets of rain all over the region. This made the air quite turbulent, which means that Mark had to work even harder than usual, with much more input than last week. Martine flew half a dozen circuits of the airfield, the problem Mark and Martine are currently trying to solve is how Mark can get across the instructions extremely quickly and effciently.
22 May 2007 - 8mph, North West Wind - Martine's Third Lesson - She has progressed to looking after the throttle, in addition to the main control and rudder pedals (but not the flaps). Mark is having to provide less and less input, and each of the 6 take-offs and landings were done by Martine, with some input from mark on final approach.
11mph South East Wind - Martine's Second Lesson - The lesson involved take-offs, circuits, landings and take-offs again. Today was quite windy, and Mark was taking control of the plane for the last few feet of the landing.
3mph North Wind - Martine's First Lesson - Martine spent the lesson getting used to the controls, holding up the nose during turns, and had a go at a take-off and a landing, with Mark looking after the pedals, throttle and flaps.
Special Thanks
To a very patient pilot and coach, Mark Jefferies.
To David Poile MBE.
To Barclays Bank, PLC.
To the staff and students of Perse School in Cambridge, who held a casual day in aid of EACH, in addition to the raffle of the head of science's (Dr Fengler) favorite Snoopy tie! Also, the prefects and several members of staff put their necks on the line on the receiving end of a barrage of wet sponges, and raised a whopping £750.
To the staff and students of St. Neots Community College.
To Barretts of St Neots for their second dedicated year in supporting Martine's charity challenges.
To Bennett's Shoe Repairs, St. Neots.
To Martine's Army, without whom this charity event could not take place: Phil Brooks, Jean Brooks, Steve Clarke, Elaine Donaldson, Arthur Hackett, Janet Howell, Wilma Lingford, Peter Lingford, Anne Morgan, Ruth Norman, Steve Page, Eileen Raggatt, Peter Raggatt, Jess Reader, Sally Robinson, Pauline Swain, Charlotte Ryan, Jane Yerbury.