On the weekend of the 4th October 2014, Martine walked the Longmynd Hike, a walk of 50 miles, which must be completed within 24 hours.
The walk started at 1pm on Saturday the 4th October, and continued through the day and night, finishing before 1pm on Sunday the 5th October, and takes in 9 peaks.
Our Story ...
For a view of the walk, in words and pictures, pleaseclick here ...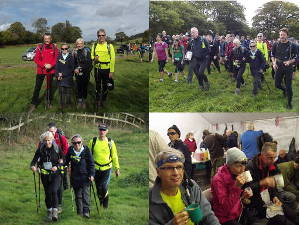 A Special Message
A big, big thank you to the organisers, and supporters of the 47th Longmynd hike which took place on the weekend of the 4th October and was very well organised. Also a very warm thank you to my team members: Simon, Annette and David who helped me through it. It took the four of us just under 21 hours to complete the figure of eight circuit - from 1 pm on Saturday to 9.57 am on Sunday.
Thank you also to our team supporters: Steve, April (my guide dog), Gail and Chris, who came to cheer us up at four of the checkpoints.
Lastly, thank you to all my sponsors. Without you all, I wouldn't have been able to get through that hike. The thought of all of you believing that I could do the hike made me determined to get through it for Guide Dogs, especially going up the nine hills - a total of 10,000 feet, through the night, down some frosty slopes and cattle grids in the morning.
My reward on the day was the description of the sunrise on Longmynd by Annette, David and Simon, which, according to them, was unbelievably beautiful.
My second reward will be the total collected for Guide Dogs which should be in the region of £500. Barclays bank will double the final amount as I was a member of their staff for 23 years. I'll give you an update in a few days as I am waiting for a couple of sponsor form to come back.
The GDBA
At any one time the Guide Dogs for the Blind Association supports about 5,000 guide dogs in the UK.
Every year they breed over 1,000 guide dog puppies, some of which go on to become brood bitches and stud dogs.
It costs the Association around £10 per day (raised through voluntary donations) to breed, train and care for each guide dog.
The working life of a guide dog is about seven years and many guide dog owners have several dogs during their lifetime.
How Do They Do That
The walk takes place during the day and night, and although Martine does not mind the dark, she is being helped all of the way by David, Annette and Simon, who have to navigate the route with a Martine on-the-arm!
There are 9 hills to navigate, and a grand total of 28 stiles en-route.
By the rules of the walk, Martine is required to carry a Torch, Compass and Map.